A cleaning company bond may be marketed and sold under several different names, a janitorial bond, a maid bond, a house cleaning bond and other, but it's real name is actually a Business Services Bond.
Ideal Choice Insurance Agency offers the only known instant on-line price indicator for the three major bond companies doing business in California.
Check it LiveRate for Cleaning Bond for yourself.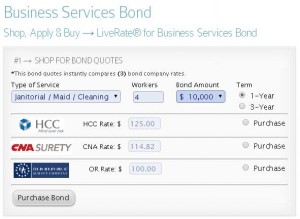 Cleaning business owners who shop online for a instant online bond and find LiveRate find the lowest rate for a bond. Surety bonds for a cleaning business will vary in price depending on the number of employees and the amount of bond coverage.
LiveRate for Business Service Bond will provide instant rates for a one (1) year or three (3) year bond in the amount of $2,500, $5,000, $10,000, $25,000, $50,000 or $100,000.